The Burly DeWalt 35ft. Tape Measure. Tough Enough For Any Work Site
The DeWalt 35ft. Tape Measure is the longest hand tape that the company makes. It's heavy, it's burly and you wonder if it will be difficult carrying around on the job. We'll assume that you will be needing to be measuring out 35 feet to begin with, otherwise opt for their 25 footer and you won't have to worry about it.
Now let's get into the details…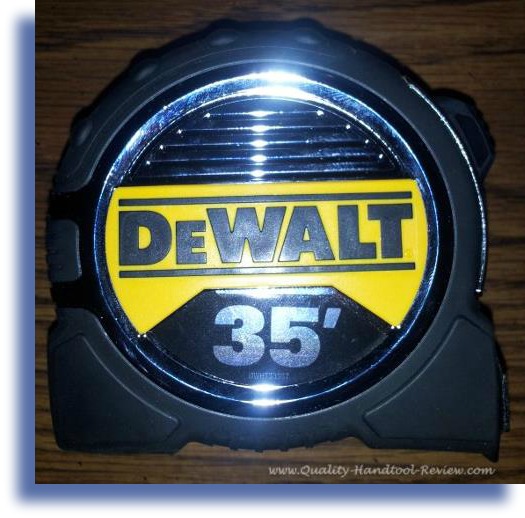 Photo By: Mark Hinkle
Manufacturers specs:
---
Grade:
-Worker/Contractor-

Real World Specifics…
The extra 10 feet in length did come in handy on the 35 footer. On big jobs, you're frequently measuring bigger distances and instead of stringing your tape out many multiple times, one or two shots will usually get you the measurement you need. Is that a big enough deal for the extra size and weight? Well you have to decide that but I have to tell you, the size and weight was really no big deal for me.
The only issue that I had in that arena was the worn pocket from clipping it on my Carhartts. But that happens with any tape measure really and I found these double knee work pants with a leather reinforced pocket that are half the price of Carhartts. I really like Carhartts, but they are priced pretty high and for about the same cost, I can buy two pairs of these that are still made by a good company like Wrangler.
I used it to measure itself and it came out to 1 1/8" while still curved and 1 ¼" flat. Pretty handy to measure small things but the odd measurements rather than an even 1" limits its usefulness quite a bit. However, the extra width allows it's longer blade standout...
Claiming a 13' standout is of course a little optimistic. Right out of the box I barely managed 11 ½' which is still pretty good. Funny thing is, after I used it pretty solid on a project for about six months I tried again and got right on 12'. So 10' - 11' could probably be expected if you're careful without having to go into a perfect Bruce Lee zen state of consciousness.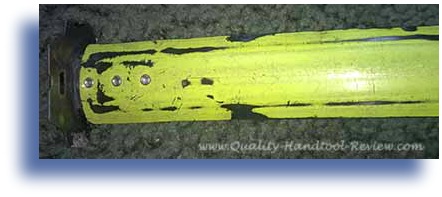 The ends of a tape take quite a beating and the extra Mylar coating really helps prevent cracks and therefore tears in the tip. In the many months of regular use, this DeWalt 35 footer is still going strong.
Blade lock engagement is solid, comfortable and easy to operate with the large, forgiving rubber locking lever. It can be placed on lightly for quick, temporary use or fully engaged for holding its own weight or leaving to sit on its own.
TIP!
Most belt clips are held on by one little screw that is easy to remove. If you ever bend yours out of shape, grab a pair of pliers and just give it a pinch up at the bend. Viola, good as new!
Many belt clips that I've used before can be easily sprung. The clip on the DeWalt 35ft. Tape measure is a durable spring steel that has not only held up to the regular clipping and unclipping throughout the months, but to put it into a little better perspective…

The body on this tape is larger than a standard tape. As an electrician, and specifically on the last job I was on, there is a lot of climbing up and squeezing through small spaces (between cable tray, etc.). This tape has gotten hooked on things and yanked off my pocket (adding to the torn pockets that I talk about above, I'm sure) and not only survived the tumble, but the clip has not sprung once.
At 1.65 lbs. this guy tips the scales at a higher place than most. However, in the months of use that I have given it I never once found it's weight to be a hinderance.
I have nothing to report here just yet as it hasn't failed on me once. I do like the idea of being able to get a replacement if something should break with the lifetime warranty though.

-Your "likes" help, thank you!-

Here's What All Of You Want To Know… How Is It In The Real World?
When I first got the DeWalt 35ft. tape measure, I could tell that it was heavier and bigger (of course) than most other tapes. But, I could also tell that it was pretty robust. Most of the body was covered with a heavy rubber type coating and the main body itself seemed to be a fairly heavy metal as well.

Or was it?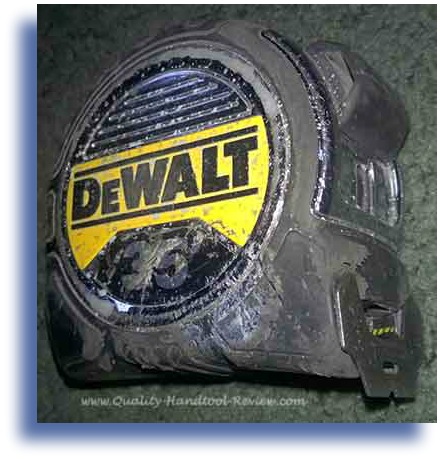 Photo By: Mark Hinkle
I used this tape on a job from spring into the fall for about six months over all. As an electrician, much of my work is done at heights so it was dropped, kicked, used, and mildly abused which is my preferred process of research before writing any review. As I study the result while writing this, I can tell that the chrome has been scraped and peeled off to reveal not metal, but plastic.
 That's a surprise.
 But, I can also say that it held up very well. The tape is still completely functional with no malfunctions and no breaks. So the high impact plastic and rubber coating has done its job in protecting this behemoth.
I was a little surprised to find that the DeWalt 35ft. tape measure didn't have any magnets on the foot. While disappointed at first, I soon realized how little I needed them. I also realized how much easier it was to use without them. When trying to get the foot at just the right place for a measurement, the magnets will constantly be grabbing onto any metal around and pulling the foot everywhere except where you want it. It is very nice to not have to deal with that.
F.Y.I...
Most if not all U.S. tapes have some sort of marking to call out measurements at each foot and 16" (to lay out wall studs). But what are the black diamonds for? They are used to evenly space trusses to fit 5 into the space of one sheet of 4x8 plywood.

Another mild disappointment was the small amount of information provided on the tape. While printed with large, clear numbers and markings it would be nice to have the information featured on many other tapes that I have used in the past such as metric measurements or even frequently used graphs and charts printed on the back of the tape.

The only real bad thing about this tape is made even worse by the fact that it seems like it would be an easy fix. The blade retraction is absolutely terrible. At long extensions, you have to bang it on your thigh to get the retractor to be able to reel in the whole tape. Related to that, don't panic the first time you yank the tape out quickly and you feel it seize up on you. Just grab hold and keep pulling a few more inches and you'll feel it loosen up and then just pull it out a little slower from then on. While I'm sure both of these issues are related to the fact the the longer and wider blade is a lot heavier for the retraction spring to deal with, it seems like using a heavier duty spring would solve  that whole issue. A glaring lack of engineering in my opinion that causes a lot of frustration in the field.

A Short Video On How To Read The Markings On A Tape By Tom Hintz Of NewWoodworker.com...

Pros
Very durable body can take a lot of abuse

Mylar coating on end of tape does a good job of protecting from tearing

Wide, strong tape allows for long standout

Very large foot to easily grab what you need and stay there to make your measurement

Though large, the rubberized grip surfaces and shape make the body still easy to hold on to

Large, easy to read numbers on the blade




Strong belt clip

Made in America

Lifetime warranty



Cons
Internal spring is ridiculous. Seizes up if pulled out too fast and wont retract if pulled out a good distance

Rather sparse on the information printed in the blade

Some may not like the lack of magnets on the foot
Conclusion On The DeWalt 35ft. Tape Measure
The heavy duty body, extra length and wide blade may make this tape a bit heavier than what you're used to but it's still easy to manage and is also where it's strength lies. Able to take all the abuse that you can throw at it, easy to read, carry and handle makes it easy to forgive it's weak retraction spring issues. After holding up and doing it's job well for several months but only when dealing with a weak retraction, we give it a: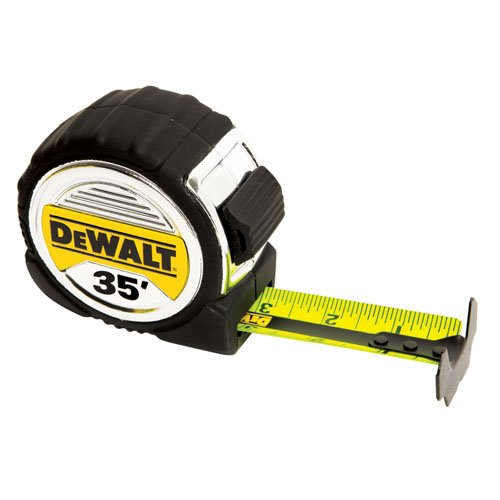 Buy on Amazon today!
DeWalt is a registered Trademark of DeWalt

---
Take a look at these other reviews that you may be interested in...

Home

›

DeWalt Tools

› DeWalt 35ft. Tape Measure
---
If you find anything useful on Quality-Handtool-Review.com, it sure would help out if you put a link in your blog, article, Facebook comment, etc.
Thank You!

Return To Top of Page