Turn Your Dremel Rotary Tool Into An Easy To Use And Versatile Dremel Plunge Router!

Yes, the addition of Dremel plunge router attachment #335-01 can really expand your wood working projects. This little attachment for the Dremel Moto-Tool series of tools like the Dremel 4000 will add a whole new dimension to the things you can create. You can:

Make picture frames and the keyholes to hang them
Mortise hinges
Cut perfect circles
Make tight fitting tongues and grooves
And of course freehand routing
These are just a few of the things that you can do with the Dremel plunge router. Now the question remains, will this router work for you?
---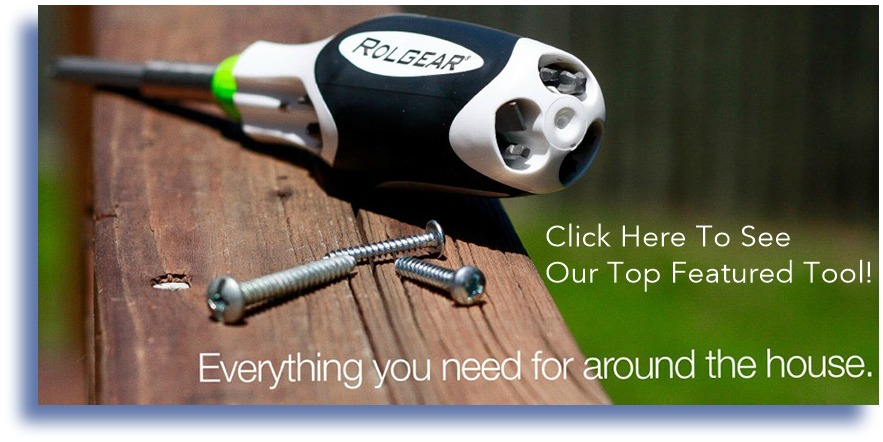 ---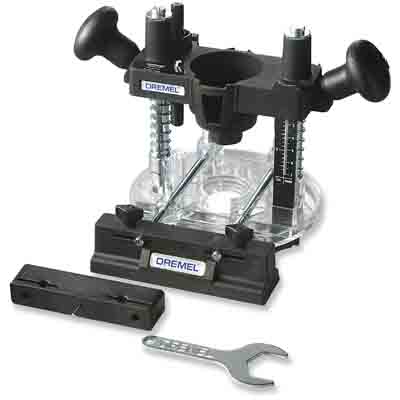 -Read my review for the Dremel 4000 here-

---
A Router For Under $24?? Well, Sort Of…

TIP!

Order some bits with the router. You'll need them and it will help get you over the $35 free shipping limit!

If you already have one of Dremels' rotary series of tools like the Dremel 4000, you can easily turn it into a handy plunge router for around $25 from Amazon. 
For your $25 the Dremel Plunge Router kit comes with:
An edge guide
A circle cutting guide
The wrench for mounting
And of course the manual which you can download here
My kit did NOT come with any Dremel router bits.
When the attachment is assembled on the rotary tool, it looks and feels just like any other router, albeit a bit smaller and a lot easier to handle.
One thing to remember when it comes to Dremel tools is that they are made for light duty use. Not that they will wear out if used a lot, on the contrary, Dremel tools are known for being very robust. It's just that they are made for lighter materials for the most part. This is the only complaint that I've ever heard about Dremel tools and it's always been because they were being used outside of their designed purpose.

To assemble;
Just unscrew the housing cap and put it out of the way because you will be putting it back on when not using the router attachment
While paying attention to the placement of the shaft lock button, put your rotary tool into the attachment
Thread the mounting nut onto the tool. I had to keep a pretty solid pressure on it to get it to start
Tighten the mounting nut with the provided wrench
Store the wrench on the router (if you want)
FYI...

A plunge router can "plunge" into the middle of your work piece as opposed to having the bit depth fixed and only entering the work from the side.

This Is NOT A Contractor Grade Tool!

While the Dremel brand is considered a very robust collection of tools, they are not made to stand up to the abuse of being thrown into and tossed around in a tool box, unless of course it's in a case of its own. But even then, if you have a lot of heavy duty tools bouncing around in there, a Dremel case could easily end up cracked and broken.
The body of the Dremel Plunge Router itself is made up of plastic with the depth stop and guide rods being steel. However, there is nothing flimsy about it. The plastic is a heavy duty high impact. So while it won't be able to stand up to any real abuse, with just simple care like not over tightening pieces and maintenance like lubricating the guide rods with a light oil, it should last you forever.
Dremel Plunge Router Metal Depth Stop And Guide Rod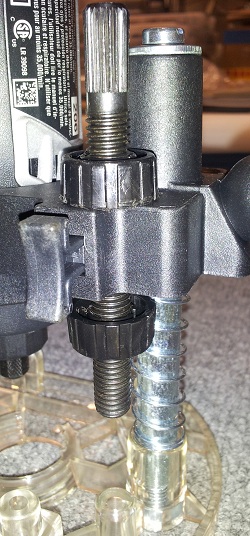 Photo by Mark Hinkle

Some Useful Features That Will Make Your Work Easier

Dremel Tools is well known for innovative ideas for features on their tools and attachments and the Dremel Plunge Router is no different. Features like:
An easy twist lock handle for quick locking on a plunge
Dual depth stops with a quick release, so no more stopping your work just to readjust for a different depth (See picture above)
The clear base on the Dremel Plunge Router allows you to see your work clearly
Photo by Mark Hinkle


Tip

When lubricating your guide rods, go ahead and rub a little car wax onto the base as well. Your router will slide much easier over your work.

Slots for storing wrenches, extra bits, and accessories such as a light
Photo by Mark Hinkle

All make for much more efficient work with better results.

---
Did this information help in any way? Was it presented well? Click that like button below!

---
Here's a video that shows the Dremel Plunge Router at work.

Notice!
In the video above they played a little switcheroo. They didn't show that they utilized the Dremel 4486 Keyless chuck. You won't see them put it on, but you'll notice it as they start the routering of the piece (I don't think they were trying to fool anyone, just an editing issue). I haven't reviewed the keyless chuck attachment yet, but it may hold the router bit more stable for less run out, which can be an issue with some harder woods.
When It Comes To Dremel Router Bits, Quality Matters!

I ran across some very cheap ($12 for 10 bits I believe) router bits that sounded good because they were even advertised as titanium coated. Sound too good to be true? As usual, it was. They look as if they were rough sand cast and then hand sharpened with a file. They burned the wood and were just over all very difficult to use and ultimately not worth the money.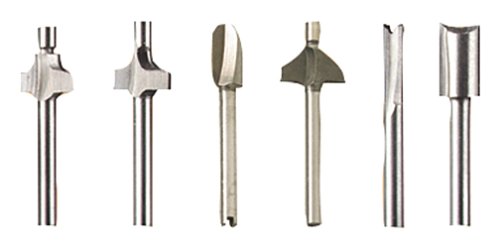 I ended up getting the Dremel 692 6-Piece Router Bit Set for $28 (and $10 shipping… ouch, that's why you buy them with the tool) from Amazon. Not the best, but if used with care, a good buy for the money.

Be Safe!!

Always disconnect the power before adjusting or adding an assembly!

The set came with…
Three piloted bits (612, 615, and 618) with an extension of the shaft below the cutter blade for guiding the bit along the edge for decorative edges
One corebox bit (617) for decorative grooving, carving, and sign making
Two straight bits (650 & 654) that are flat on the bottom for cutting square grooves, rabbets and dadoes, and for leveling recessed areas in sign making
 These bits have a maximum RPM of 35,000 (The max of a rotary tool).
Bigger Is Better!
Now, what I will look into in the near future is getting the bigger 3/16 collet for my Dremel 4000. This will allow me to use the bigger shank Dremel brand TR770 router bits used with the Dremel Trio 6800. They are a quality carbide bit so they...
Will stay sharper longer
Are more stable so they wander less
Allow you to cut much faster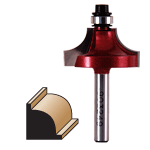 I am also looking into a new company that has a very interesting business concept. You can buy a bit, blade or hole saw, use it till it needs sharpening, then return it to the dealer for approximately 65% return credit for a new blade. For example; purchase a $16 dollar blade, use it and then exchange it for a new one and only pay about $6.
They have professional and they have industrial grade bits and blades made of tungsten carbide.  You won't get much better than that.
When I find out more, I'll let you know here. The primary information I need to confirm is whether or not the shank size will fit the Dremel collet.
Stay tuned!
---
Conclusion

Tip!
One of the Dremel 4000s greatest strengths that you won't find on some other tools is it's speed control.
If your material is melting or burning, turn down the speed a bit and continue on.

The conclusion here is; for $24, getting a solid, versatile, easy to use tool that a serious hobbyist all the way up to a small business can use, the Dremel Plunge Router attachment for the Dremel rotary series tools is an excellent buy for the money that will produce great results and last a long long time if cared for properly.
I can't stress enough, however that this tool set is directed towards lighter materials and light duty use. Having said that, it has been used regularly for making musical instruments, model rockets, RC cars and even dominoes.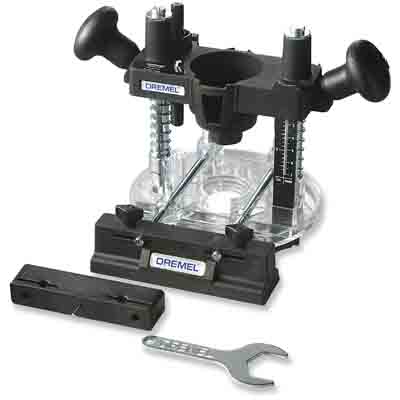 Buy on Amazon today!
Check Out These Reviews On Other Dremel Related Tools
| | | |
| --- | --- | --- |
| Dremel 1671 | Dremel CNC | Dremel 4000 |
Dremel is a registered trademark of the Robert Bosch Tool Corporation.
---
If you find anything useful on Quality-Handtool-Review.com, it sure would help out if you put a link in your blog, article, Facebook comment, etc.
Thank You!

Top of Dremel Plunge Router
Home

›

Dremel Tools

› Dremel Plunge Router