Rolgear Ratcheting Screwdriver
The Rolgear ratcheting screwdriver is a full line of screwdrivers using Robert Suters incredibly smooth and precise rolling ratchet design.
From a small 4" blade all the way up to a 15 tip multi-bit driver, Rolgear has a driver option to do the job you're looking for and do it so smoothly, you'll think there was Canadian voodoo involved.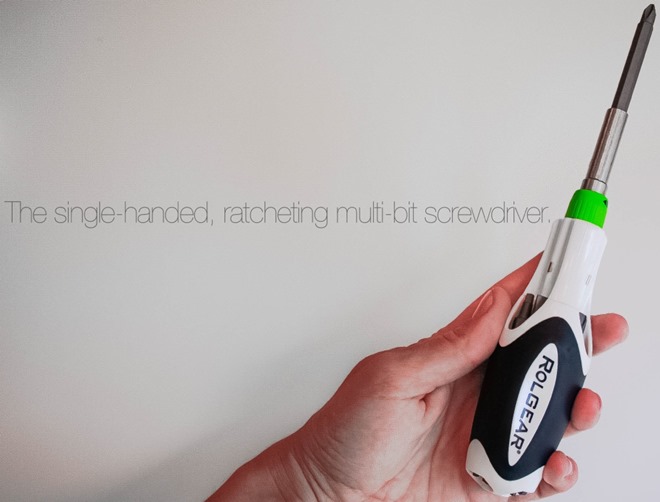 Rolgear 15 tip Multibit Ratcheting Screwdriver
---
Grade:
-Worker/Contractor-
Wait… Why A Ratcheting Screwdriver?
Good question. I mean, other than a hammer, a screwdriver is one of the most basic and easy to use tools there is so why complicate it? 
This actually occurred to me as I started using the Rolgear ratcheting version. So with that in mind, I went into my next project paying attention to what made them more useful. 
I found myself in many situations where the ratcheting action made my job faster and easier…
Just the simple fact that I didn't have to release my grip to get another turn made the job easier and faster. Those of you who do work of this nature know full well that with repetitive movements comes pain, and every little way to reduce your movements not only reduces that pain but makes a job quicker.

Recently on a windmill project, I experienced repetitive stress injury once again. If you have ever had to endure this type of injury, you know that it can affect every part of your life.
Doing the proper stretches, massage and reducing motion using better tools like these ratcheting screwdrivers will help you recover fully!
When starting a screw, there is very little torque needed to get the head seated (with the exception of wood). With the smooth Rolgear ratcheting, you can just reach down with your fingers and turn the shaft itself to get the screw seated very quickly.

---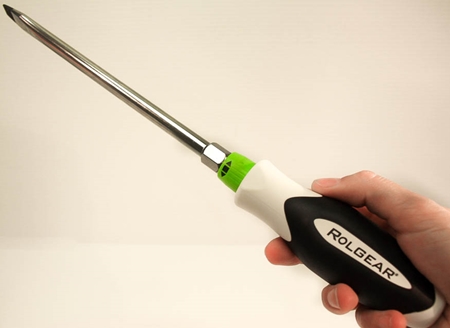 8-inch single blade ratchet driver
Many high quality screwdrivers have a hex bolster at the base of the handle to put a wrench on while you push very hard on the handle to get a lot more torque for removing stubborn screws or even screws with stripped heads. On a standard screwdriver while effective, it borders on ridiculous as you work against yourself the harder you push. With a ratcheting screwdriver, the pressure applied and the turning of the wrench is separate, greatly applying more torque on the screw. Again, making the job easier and quicker.
The situation where I found myself most grateful to have a ratcheting rather than a standard driver was on several occasions where I had to get into a difficult and blind position. With a regular driver, every little turn would have required me to go through the frustrating process of getting the blade repositioned every time. With the ratcheting driver, I positioned it once and never let go until the screw was loose.

Take my word for it… ratcheting = good.
What's This Smooth Ratcheting Action From Rolgear All About?
The Driver that I will be focusing on is the MBR3-15 Multi-bit Ratchet Screwdriver with 7 double ended bits and a nut-driver. But I will also touch on the SBR2 small single blade and BDR3 medium driver with ¼" changeable bits since they share similar major features.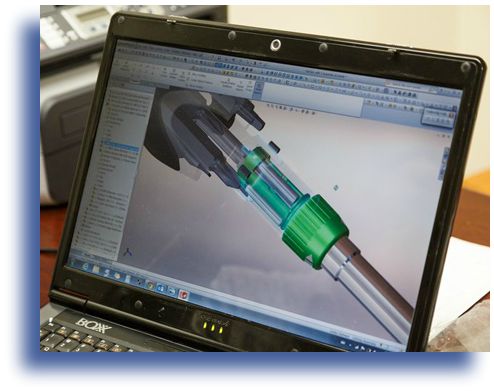 All of them have the smooth, silent ratcheting action that only Rolgear offers (that I know of). Rather than having a gear and tooth mechanism that can wear over time, I'm guessing it has a single (or more) ball bearing in a housing that gets wedged in the housing to hold tight on the power stroke but then smoothly rolls free on the return (this pure speculation on my part just to try to explain the action, I really have no idea : ) ). This allows for such smooth and precise action that it engages immediately with the slightest of turns. I can see where this design would be much more durable over time as well with no gear and tooth to wear down.

Manufacturers Specs:
MBR3-15 Multi-bit Ratchet Screwdriver:
7 Double ended bits made of s2 Tool steel
Slotted  – 3/16", ¼"
Square   - 1,2,3,4
Phillips – 1,2,3,4
Torx     - 10,15,20,25
Magnetic ¼" stainless steel bit adaptor
10.6 oz.
9" long 
---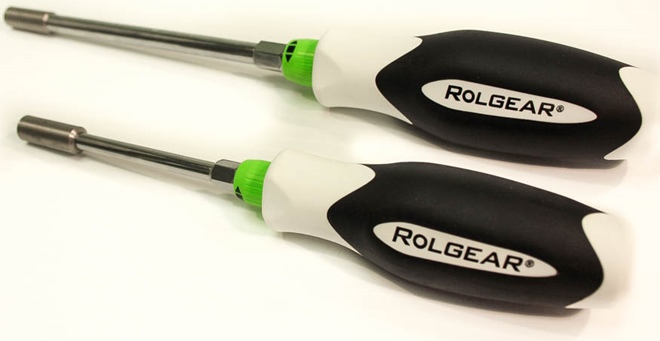 BDR3 medium driver:
Magnetic ¼" stainless steel bit adaptor
Uses standard 1" x ¼" hex insert bits
Chrome plated 6" blade made of S2 tool steel
5/16 hex bolster for wrench application
---
SBR2 small single blade:
Available in Phillips No. 1, Phillips No. 2, Square No. 1, 
Square No. 2, Slotted No. 4
Chrome plated 4" blade made of S2 tool steel
5/16 hex bolster for wrench application
Protective manganese phosphate coated tips
---
What I See:
My initial impression when I opened the package from Rolgear was that they looked to be quality pieces. Some low quality tools are very easy to spot and these were not them. What was obvious was the thought that went in to the design of not just the handle but the shaft and tip mechanism as well. Robert Suter isn't just trying to capitalize on his ratcheting design; he's worked to create a complete tool.
While most screwdrivers these days look like they were molded from something out of a gumball machine, Rolgears' screwdrivers are molded from what seems to be a denser material with an embedded rubber type material in the main area where the hand holds to aid in grip.

Also, plastic is very easy to do badly but these have a solidly made handle that has obvious attention put into it. Rather than the typical round-with-grooves type shape, this shape is a three sided design that puts each flat into a perfect part of your hand and the rises right where you need them and indents for your thumb to get great torque on the tool. 
Though I haven't had a chance to put any of the ratcheting screwdrivers sent to me by Rolgear through the rigors of a tough, industrial job, I have had an opportunity to use it for several weeks on a residential job which is more like the jobs that Rolgear expects its target market to be working on anyway, I suspect.

Since writing this article, I have had the chance to put the Rolgear multi-tip screwdriver through the paces of a 3 month, 43 tower windmill install project.
Getting properly dirty and beat up, it performed perfectly the whole time!
The tool is very easy to use. Yes, it's a screwdriver so not overly complicated, but I mean the actions required when using a multi-tipped ratcheting screwdriver are very simple and intuitive to execute in Rolgears' design.

Easy to use, For Example...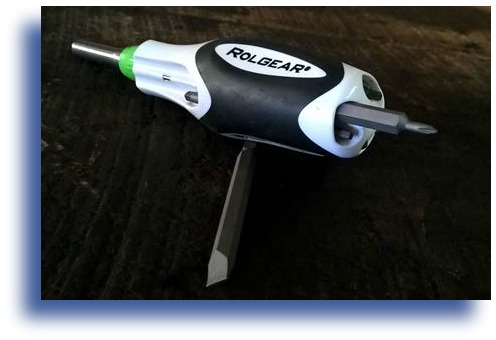 Photo by Mark Hinkle
Tip changes on the MBR3-15 multi-tip driver are quick and easy with the exposed but in-handle carrying mechanism. Just pull the current tip and use it to push the needed tip out of the rear of the tool. Push the un-needed tip into the open slot and voila, your needed tip is in hand and ready to snap into place. An easier process than unscrewing the cap, pouring out all the tips and sifting through to find the tip you need on any hollow handled version. And it does this without making the handle itself too big for comfort (those with smaller hands may disagree). The BDR3 6" bit driver uses standard ¼" bits like Makitas' Impact gold tips and has no holder but these tips are usually stored in the case they came in or you can use this interesting and incredibly useful magnetic wristband anyway which is no bad thing to me.

And of course, the SBR2 single blade has no tips to change.
Thank you, your likes matter!
As an electrician, I find myself interchanging between standard, phillips and even torx fairly often and this easy change process makes a job much more fluid.
Changing the direction of torque is done with a ring right at the base of the handle which makes it completely natural to reach down with your thumb and index finger to rotate the ring as you're gripping the driver. Or just turn it with your other hand, either way is super easy with the adjustor sliding smoothly in the direction you need. This btw, is more intuitive than most ratcheting tools. Ratchets for example are turned in the opposite direction than you need to go. Need to turn your ratchet clockwise (tighten)? Turn the selector counter-clockwise (lever actuated ratchets excluded of course). Not a major deal really but just one more thing to make the tool easier to use.

These are the kind of things that set one tool apart from others and make them a wise purchase.
You need to know the bad too…
However, there's not a lot to report here. There were only two things that I could see that could be improved. 

Update 1
Robert Suter contacted me and assured me that they are indeed working on a better ink for the direction labeling.
This one is cosmetic, probably easy to change and really should be looked at by Rolgear because it just really screams "cheap" against an otherwise quality tool; after a very short period of time using the multi-tip driver, the direction indicator printed on the direction change ring started to wear off. While it could be argued that it could be done away with altogether, a better solution would be to eliminate that printing step totally and have the direction molded right in as the piece is made. Problem solved, and a bit more efficient.

Undate 2
This issue is inherent only in the design of the 15 bit models. Because they are double sided bits, there is a very small contact area for the magnet to adhere to. 
This issue does NOT affect any other models. If you want to avoid this issue with a multi tip driver, order the MBR3-8.
The other is also easy to fix, screams cheap but could cause some serious problems. The magnet holding the tips on the MBR3-15 multi-bit driver are horribly under powered. You can slingshot the tip right out by just swinging your arm too quickly. While I wouldn't use a multi-tip tool on a job like working over a live 200,000 volt transformer at a hydro-dam (though some might), the danger of the tip coming out so easily could cause other issues from falling into any operating mechanism to just plain losing the dang thing.While working on a wind farm project recently, this became a real frustrating issue with the tip coming out while just trying to pull it away from the screw. I can see where anyone using this for any good length of time would want to get rid of the driver all together (by launching it across the room in frustration) and use a competitors for this reason alone.

 A stronger magnet is needed and will solve that issue.
Pros And Cons In A Nutshell
Pros:
Exclusive engineering on Robert Suters ratcheting mechanism brings smooth, precise and quiet operation.
Well thought out, ergonomic handle
Superior bit storage on the MBR3-15 multi-tip driver
Chrome plated shaft made from S2 tool steel
5/16" hex bolster on the BDR3 6" bit driver and SBR2 single blade driver
Simple, efficient direction changes
Cons:   (See my update above)
Minor cosmetic issue with the direction indicator wearing off very quickly
The magnet that holds the tip into the housing is way too weak. The tips coming out so frequently is incredibly frustrating and possibly dangerous
Conclusion On The Rolgear Ratcheting Screwdrivers
Very well engineered, well made and far superior to standard ratcheting screwdrivers, the Rolgear Ratcheting Screwdriver is easier and more efficient to use which translates to a quicker job done with less pain and fatigue from those repetitive movements. Even with its flaws (the poor printing on the direction indicator and the semi-major flaw of a very weak tip magnet. See my update above), the MBR3-15 multi-tip driver made a three week job quicker and easier but those flaws (especially the poor magnet) dropped it in score a few points (but plus a couple for the update) for a:
Makes A Great Gift!
BDR3 6" Bit Driver
Sharing the same great engineering and quality, the BDR3 6" bit driver doesn't suffer from the same issue of poor tip retention, but has the same poor quality printing on the direction ring. We'll knock that one up to a:
SBR2 4" Single Blade
And the SBR2 single blade, with the same qualities as the BDR3 ties it with a:
---
Rolgear is a registered trademark of Rolgear Inc.
---
Thank you, we like your likes!
---
Here are more reviews that you may be interested in!
---
If you find anything useful on Quality-Handtool-Review.com, it sure would help out if you put a link in your blog, article, Facebook comment, etc.
Thank You!

Top of Page
Home

›

Rolgear

› Rolgear Ratcheting Screwdriver